The Grande Dame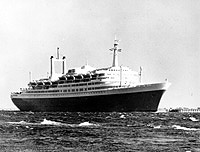 Without a doubt, the favorite of many, the S.S. Rotterdam. After 38 years, having settled into into old age, she was finally retired from Holland America Line service on September 30, 1997. Although said so many times, she was and is the Grande Dame of Ocean liners.
Other articles, illustrations and photographs can be found on following pages.
Also, about the builder of Rotterdam V, the Rotterdamsche Droogdok Maatschappij with photos of the building and launching of the ship.
---
From "Facts and Figures, S.S. Rotterdam", a booklet published by the Line in preparation for her maiden voyage, September 3, 1959:
ROTTERDAM - A NEW KIND OF SHIP WITH A NEW LOOK
The Rotterdam takes her place at the head of the Holland America Line's fleet with an entirely new conception of exterior and interior design.
While she presents a profile startlingly different from any other single vessel in the historic Western Ocean traffic lanes because she dispenses with the conventional funnel, the unique arrangement of her passenger accommodation is a radical departure from traditional ship planning and layout.
HOLLAND'S GREATEST SHIP
At 38,650 gross tons, the new flagship of the eighty-six-year-old company is the largest passenger liner ever built in The Netherlands. She is 748 feet long, ninety-four feet wide and she can carry a total of 1,456 passengers in two classes -- first and tourist -- in transatlantic service, and about half that number on cruises.
She is the fifth Rotterdam to carry the green-white-green house-flag of N.A.S.M. (Nederlansch-Amerikaansche Stoomvart Maatschappij -- the line's corporate title).

She is the largest foreign-flag liner built for the transatlantic trade since World War II, and she ranks fifth in size among the vessels regularly using the Port of New York.
Her entry into service coincides with New York State's celebration of the 350th anniversary of the arrival of the Halve Maen (Half Moon) and Henry Hudson's discovery of Nieuw Amsterdam, now known as New York City. The Halve Maen anchored off Staten Island, not far from Bedloe's Island where the Statue of Liberty now stands, on September 11, 1609. By a coincidence, the Rotterdam for the first time passes this same spot just 350 years to the day.
The advent of the Rotterdam coincides with the resurgence of her namesake city which, in fourteen years, rose from one of the most devastated of cities to the most modern in Europe. Rotterdam today is the world's second largest port, after that of New York.
Completely air-conditioned, including crew's quarters.
Only ship to have two complete decks of public rooms, upper promenade and promenade. Two of these rooms, the theatre-auditorium forward and the Ritz-Carlton room aft, are two decks high. The theatre, seating 607 persons, is the largest of its kind in any ship, compares in size with many a popular New York City motion picture house. It is equipped for multi-purpose projection apparatus.
Most extensive shopping facilities on any ship. Called "Lijnbaan", after Rotterdam's great shopping center, the various stores sell duty-free bargains in precious stones, watches, cameras, perfumes, jewelry, etc. to toilet articles of American and European manufacture.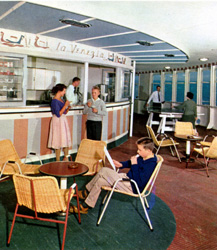 A unique "fun center" on the promenade deck forward is a games room where all kinds of indoor amusements are available, as well as hot dogs, hamburgers, and soft drinks but no alcoholic beverages, which are obtainable in other parts of the ship.





---
EMPLOYMENT
The Rotterdam will head up the company's regular transatlantic service between New York, Southampton, Le Havre and Rotterdam in summer and will be employed in luxury cruising in the Winter.
She is scheduled to sail on her maiden transatlantic voyage from New York on September 22, and subsequently on October 20 and November 12.
Two long cruises from New York have been scheduled for the new flagship. The first is a forty-nine day voyage around South America, leaving on December 12, 1959, visiting sixteen ports at a minimum rate of $1,395, and the second a Four Continents cruise of seventy-five days, on February 1, 1960, visiting eighteen ports in South America, Africa, Asia and Europe, with rates starting at $2,400.
Thereafter she will run in the transatlantic service, her first voyage in 1960 being scheduled for April 18.
THE SECRET STAIRCASE
The Rotterdam lives up to her owners' reputation for always offering some radical departure in each new ship's design or layout. In the new flagship this takes the form of allowing her classes complete freedom of movement between their private and public quarters in the most desirable parts of the vessel without mingling, so that neither is confined to one section.
This is done by means of the "trick" main staircase that is used in combination with six elevators.
The result is that of making the Rotterdam's layout a "horizontal" rather than a "vertical" one, as in all other large ships where first class is located forward and amidships, and the other class or classes are in the less desirable after sections.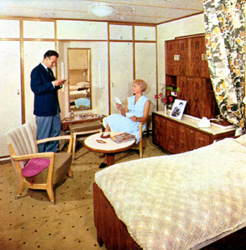 Thus, the two classes (first and tourist), the Rotterdam carries in transatlantic service, both equally enjoy run-of the-ship privileges. This has been more or less the prerogative of the tourist in some of the smaller, recently built vessels, such as the Ryndam, Maasdam and Statendam, on which the first class is confined to a single deck. The Rotterdam will carry a maximum of 580 in first class and a minimum of 809 in tourist, or a minimum of 301 in first and a maximum of 1,055 in tourist, according to season, although her capacity is greater.
The idea of the two-way staircase came to Willem H. de Monchy, joint president-director of the Holland America Line some years ago when he visited the Chateau de Chambord in north central France.
The huge Renaissance chateau has a central stairway in two seperate overlapping spirals. It was designed so that a person mounting them would not meet anyone descending.
Modifications of the stairs provide optional exits and entrances which may be used for certain decks at certain times and not at others. This enables a first class passenger to proceed from his stateroom on say A, B, C, or D deck to the public rooms topside, or to the dining room and swimming pool on the lower decks, without using the tourist class. The tourist may enjoy the same advantage.
Elevators have an automatic gear system designed to serve only one class or the other as needed to conform with the staircase arrangement.
On cruises, where only one class is carried, the whole ship is opened up to everyone.
THE FOUR PREVIOUS ROTTERDAMS
As the fifth Rotterdam, the new "sea castle" as she is called in Holland, is the scion of a distinguished lineage that began with the Holland America Line's first ship. Rotterdam No. 1 opened the now famous transatlantic service between the New and Old Worlds in 1872. She was 253 feet long and of 1,684 gross tons. She had a single funnel and carried a full set of sails for emergency use. She had accomodations for 288 passengers, all below decks, for she had little superstructure.
Rotterdam II, later to become the Edam III
(Photo courtesy of the Library of Congress, Detroit Publishing Co. photo collection.)
The second Rotterdam came out in 1886 and was twice the size, registering 3,329 gross tons; 390 feet long. With for tall masts and a single stack, she was a great advance over No.1, because she had an accommodation deck above the main deck, and could carry 790 passengers.
Rotterdam No. 3 came out in 1897 with two passenger decks in her superstructure, still with a single stack, but like No.1, two masts. She had a gross tonnage of 8,186 and could carry 1,740 passengers. She was 470 feet long.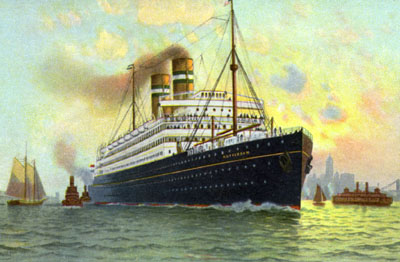 Rotterdam IV
The fourth Rotterdam, 24,149 gross tons, 688 feet long, was a double stacker. She came out in 1908, and ran successfully for thirty-two years. Like her new namesake, she had several innovations, such as the first glass-enclosed promenade deck (which experts said would not survive the first storm), and larger staterooms and deck space than any previous ship possessed. She had accomodations for 1,676 passengers in three classes. She made a great name for the company in cruising and in her heyday was noted for the extreme excellence of her table and service, a standard which has been maintained on the various ships of the line for over forty years.
HOLLAND AMERICA LINE FLEET
The Holland America Line now operates a fleet of some 400,000 gross tons, comprising seven passenger liners and thirty freighters in regular service between Northern Europe and all the principal ports of North America.
The seven liners form the second largest passenger fleet in the transatlantic run out of New York, totalling more than 150,000 gross tons. Besides the Rotterdam, these vessels include the Nieuw Amsterdam, 36,667 gross tons, carrying 1,237 in first, cabin and tourist; Statendam, 24,294 gross tons,eighty-four first class, 868 tourist;Maasdam, 15,024 gross tons, and Ryndam, 15,015 gross tons, each with thirty-nine in first, 840 tourist; Westerdam, 12,149 gross tons, 134 one class and Noordam, 10,726 gross tons, 150 one class. All, with the exception of the two last named, are completely air-conditioned and equiped with stabilizers.
The Holland America Line is the biggest operator of luxury cruises regularly carrying the largest number of patrons in that field.
Rotterdam's 1959 Statistics
---
The successor: Rotterdam VI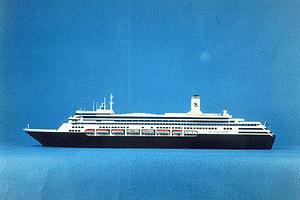 Photo courtesy of Holland America Line
Top of Page | Rotterdam V Index Page
Rotterdam Articles | Rotterdam Photos | Rotterdam Finale