The Finale
A Fond Farewell to the Rotterdam
A Painting by Stephen Card
From THE FINALE a brochure published by the Holland America Line:
Thirty Eight Years. Over One Thousand Voyages, including Twenty-Nine World Voyages and Eleven Grand Voyages. Over 1,250,000 guests. A Gracious and Remarkable Career.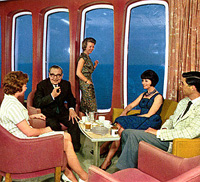 On September 30, 1997 the ss Rotterdam will retire (and was) from the Holland America Line fleet. Since her debut in 1959, she has been our flagship and the inspiration for our service standards across our growing family of ships. She has fostered the intense loyalty of some of the most experienced cruise guests in the world. The Rotterdam's sweeping lines, hand-crafted artwork, timeless elegance will never be recreated, and certainly not be replaced by technology. As recently as 1994, she was named "Ship of the Year" by the World Ocean and Cruise Liner Society. The Rotterdam has been the source of countless wonderful memories for our Alumni.
On September 12,1997, her final Holland America cruise will begin in Vancouver, B.C. For eighteen days, there will be a celebration of the style of cruising so well suited to the Rotterdam. There will be familiar faces among the officers, staff, crew, cruise staff and entertainers. The program will include formal balls, deck parties, fireworks, a President's Reception, and of course, a Gala Farewell Party. There will be a Big Band aboard; Social Hosts to keep everyone laughing and dancing, and guest lecturers, to talk about the ship and its history.
The 18 day itinerary is as follows;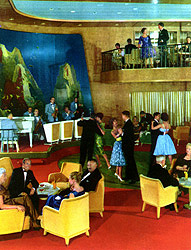 Sept 12 Vancouver,departing 3:00 PM
Sept 13 At Sea
Sept 14 San Francisco, CA, arriving 1:00 PM, departing 6:00 PM
Sept 15-16 At Sea
Sept 17 Cabo San Lucas, Mexico, arriving 1:00 PM, departing 6:00 PM
Sept 18 At Sea
Sept 19 Acapulco, Mexico, arriving 9:00 AM, departing 11:45 PM
Sept 20-21 At Sea
Sept 22 Puerto Caldera, Costa Rica, arriving 7:00 AM, departing 6:00 PM
Sept 23 Scenic cruising Golfo Dulce
Sept 25 At Sea
Sept 26 Willemstad, Curaçao, arriving 8:00 AM, departing 11:00 PM
Sept 27 Oranjestad, Aruba, arriving 7:00 AM, departing 5:00 PM
Sept 28-29 At Sea
Sept 30 Ft. Lauderdale, FL, arriving 8:00 AM
---
And a sad day it was. Somehow it does not seem like it has been 38 years since I was on the maiden voyage in that September of 1959. I have traveled on the ROTTERDAM several times since and fortunately been able to re-live some of my youth by bringing back many wonderful memories, as other pages have no doubt revealed. On those later voyages many new memories were created as well. There was always a certain comfort and familiarity I felt being on the ROTTERDAM. The kind of feeling that the newer ships just cannot exude. She is a ship of timeless beauty, something that even Holland America admits, cannot be reproduced. The "intense loyalty" that is spoken of above is the result of this special quality that only a few ships, in service today, still retain. A true classic the ROTTERDAM, she will surely be missed.
---
Rotterdam V Index Page