De Rotterdamsche Droogdok Maatschappij
(The Rotterdam Drydock Company)
An aerial view of the yard with the ROTTERDAM V in drydock at the time of her fitting out in 1959.
---
Building and Launching of ROTTERDAM V
Photos courtesy of the Rotterdamsche Droogdok Maatschappij and Roel Zwama
Laying the keel, December 14, 1956.
RDM build number 300.
Building progresses.
A view from the "Hoofd" in Schiedam with a RDM harbor tug in the foreground (right).
Ready to be launched.
The NIEUW AMSTERDAM arriving from the United States.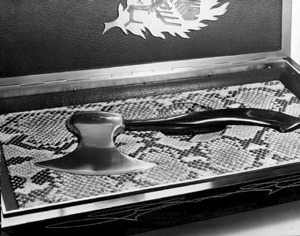 Queen Juliana launching the ROTTERDAM and the hatchet she used to cut the rope initiating the launch.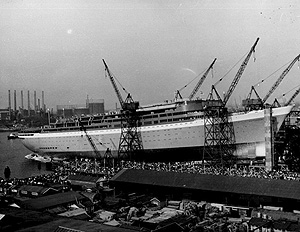 Five seconds into the launch.
A view of the launching from the "Hoofd" across the Maas river in Schiedam and the crowds that gathered.
Positioning of the funnels.
At her fitting out berth (right).
A view over the Heijplaat (workers housing at RDM) with ROTTERDAM in Dock 9.
Placing the radar mast (right).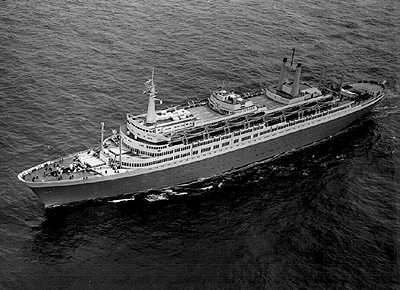 Sea trials, July 12, 1959.
Returning from her sea trials, ROTTERDAM passes the Hoek van Holland.
The Maiden Voyage, arriving in New York harbor (right).
H. R. H. Princess Beatrix, having disembarked ROTTERDAM, about to board the Royal Netherlands Navy destroyer Gelderland in New York Harbor.



Arriving at Hoboken (right).



---
ROTTERDAM V in drydock.
---
Back to Line History
Back to the Rotterdam V index page
More about RDM and the building of Nieuw Amsterdam II
Home | Table of Contents