ROTTERDAM VI
62,000 gross tons
1997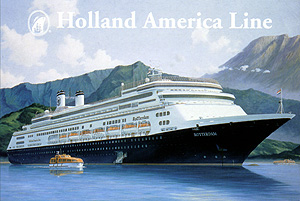 The Line issued postcard
---
From Holland America* :
In her festive inaugural season, we proudly present the new ms Rotterdam VI -- latest star in Holland America Line's seafaring saga. Like all her sister ships past and present, she dazzles with her consummate comfort and luxury -- a triumph of the shipbuilder's art.
A Distinguished Heritage
In 1873, Holland America introduced its first flagship, named for the city in which she was built. This first Rotterdam sailed at an unprecedented 10 knots, carried 396 passengers and crossed the Atlantic in a record 15 days. Equipped with that new miracle, steam power, she was nevertheless fitted with masts and sails -- just in case.
In the modern cruising era, it has been the fifth Rotterdam of Holland America that has set a standard for taste and style that inspires the service aboard our ships. Launched in 1959, this well-loved flagship has sailed over a thousand voyages including 29 times around the globe. She retires in September 1997, with the best wishes of the guests who have sailed with her.
For these loyal guests, good tidings; the new Rotterdam VI carries on the treasured tradition -- with new features that will make her, too, a classic.
Sailing Into The Future
Just as each succeeding Rotterdam was ahead of her time in speed, efficiency and style, so it is with this latest grande dame of the seas. Board the sparkling new Rotterdam VI for your magical European cruise and discover an entire deck of spacious suites, each with a full verandah. They surround the private Neptune Lounge with concierge services.
Two elegant dining rooms cater to discriminating tastes: the spectacular two-deck La Fontaine Dining Room and the new Odyssey Restaurant featuring superb Italian cuisine. There are grand venues for dancing, sunning, socializing, playing, shopping and entertainment.
Throughout the ship, priceless works of art surround you, created by world-famous artists expressly for the Rotterdam VI. Museum-quality antiques reflect the time-honored Dutch maritime tradition. Never were the classic and the contemporary wedded so artfully.
It's all waiting for you on the ms Rotterdam VI, newest luminary in the Holland America tradition of excellence.
* Holland America Line
---
Facts and Figures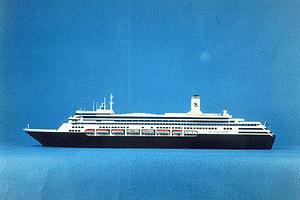 | | |
| --- | --- |
| Contract Signed | January 14, 1995 |
| Commnecement of steel cutting | January 8, 1996 |
| Start unit fabrication | January 20, 1996 |
| Official keel laying | June 3, 1996 |
| Coin under the mast ceremony | December 21. 1996 |
| Floating out from building dock | December 23, 1996 |
| Contract delivery (scheduled) | September 30, 1997 |
| Gross tonnage | 62,000 |
| Length extreme | 238 meters/781 feet |
| Beam waterline | 32.25 meters/105.8 feet |
| Beam extreme | 34.44 meters/113 feet |
| Draft (maximum) | 8 meters/26.3 feet |
| Top of mast above the keel | 55.7 meters/182.7 feet |
| Lateral projected area | 6,350 square meters/68,353 square feet |
| Propulsion power | 2 X 18.75 MW/2 X 25476 HP |
| Side Thrusters | 4 X KAMEWA 1.9 MW each |
| Joystick | KAMEWA |
| Rudders | 2 spade rudders |
| Diesel engines | 5 X Sulzer ZA40S V16 |
| Passenger capacity | Maximum 1,702, lower beds 1,316 |
| Crew | Maximum 647 |
(Above photo courtesy of Holland America Line)
---
Photos of the Flagship Rotterdam VI.
A series of photos courtesy of Stephen Payne.
Some interior and exterior views.
---
Several series of photos courtesy of Hans Hoffmann
RotterdamVI in drydock at the Fincantieri yard just prior to her floating out.
Her visit to Rotterdam, Holland on June 10 and 11, 1998.
Due to the number of photos, please be patient while they load.
---
Home | Index of Ships | Table of Contents