The Holland Amerika Lijn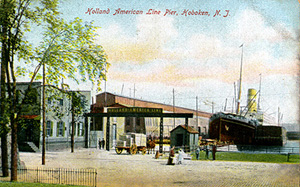 Featured Ships:

The Ship Builders.
---
Other features:
---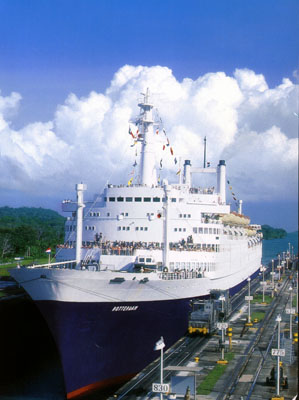 A section of this site will always be dedicated to Rotterdam V, a flagship of the Holland America Line that will always be affectionately known to many of us as the "Grande Dame"
Sadly, on September 30, 1997 Rotterdam V was taken out of Holland America Line service, sold to Premier Cruises and renamed REMBRANDT. With the demise of Premier, the ship lay moth-balled for a number of years. Now, partially restored to her grey livery, and again named Rotterdam, the ship has made its way to Gdansk, Poland for asbestos removal and further restoration. She is expected back at her home port, Rotterdam in early 2008 where she will serve as a hotel and convention center in addition to being a museum, as most of her interior will be restored to the original condition.
---
The Latest News:
The Noordam IV has entered service (February, 2006) with cruises from New York.
The Eurodam is commisioned from Fincantieri (Italy) and will enter service in 2008.
A second ship of the same class as Eurodam has been ordered
---
What's new on this site?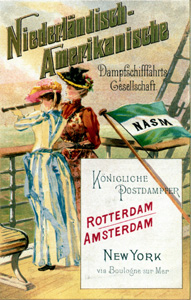 Some wonderful photos from 1900. Miss Mabel Brown took some photos of her voyage on the Spaarndam.
An improved page for the Rijndam I with interior photos, pictures of World War I mine damage
and information about the 1st World University Cruise.
Improvement of backgrounds and java script site navigation aids.
The Ship Index continues to be improved.It currently includes the entire deepsea fleet, and will soon include all of Holland America's fleet, including their river fleet, tenders, day boats, subsidiaries and joint ventures.
A listing of memorabilia dealers and links to their sites continues to expand. Add or delete your site by sending an email to unofficial@halpostcards.com.
And, as always, please be patient as the photos load.
---
New Ideas
Immigrant Photos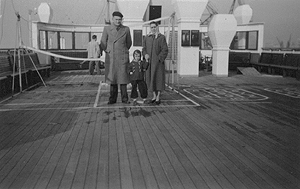 In the near future......a section including immigrant photos. See what we looked like coming to the United States. Contributions and suggestion are welcome. Please write the webmaster at unofficial@halpostcards.com.
---
On-going Projects
The Library is open for selected videotapes and books providing additional information on the Holland America Line. To the Library.
On Board Photos

A section with photos taken by those ever-present on board photographers. You may find that long lost relative or friend, or maybe even yourself. To the photos.
Passenger Lists
The passenger list project, where you can participate in providing information from the Holland America passenger lists in your collection. Often, viewers of this site write seeking some bits of history about that long lost relative who emigrated on one of Holland America ships without success. Quite possibly, we can help. Take a look and lend a hand.
---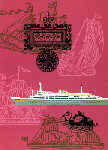 If you are a collector of Ocean Liner memorabilia, click on the menu to your right.
---
Links to Ocean Liner sites and Organizations.
Credits. All those that have helped and contributed.
---
Before you e-mail:

The "Official" Holland America Line website and mailing address are located below.Please contact them for any cruise, travel or vacation related inquiries.
http://www.hollandamerica.com
300 Elliott Avenue West, Seattle, WA 98119-4199
The Unofficial Holland America Line Home Page continues to thank Holland America and Carnival Corporation for their assistance and many contributions.
---
Last updated April 7, 2006
Copyright © Unofficial Holland America Line Home Page/Unofficial.net