R.M.S. STATENDAM
1929





"FACTS AND FIGURES OF THE STATENDAM"

"Twin screw...turbine...oil burning...carrying First Class, Second Class, Tourist Third Cabin and Third Class passengers...she makes the trip to Plymouth, England, in exactly seven days, the trip to Boulogne-Sur-Mer, France, in seven and one half days and to Rotterdam, Holland, her home port, in exactly eight days with a sea steadiness that has been pronounced remarkable...she is a ship of 30,000 registered tons, 40,000 tons displacement, 698 feet long and 81 feet wide."*

THE STATENDAM

"A ship with the romance of the ships of yesterday and the comforts of the ships of tomorrow.
There are great wide decks whereon you can whiff salt breezes and live outdoors reading, exercising or pretending your a clipper captain of the olden days.
There is every luxury, every comfort, every known device for safety and efficiency, specially trained staff and the spotless cleanliness and superb cuisine that are the Holland America Line."*

*From a Holland America Line brochure for the Statendam dated 6/29/29


---

One of only two Holland America liners to have three stacks, the Statendam III was truly one the more elegant "Edwardian" steamers afloat. She had the elegance that made ocean liner travel the experience it was. Fine woods, beautiful marbles, the art and architecture that made her truly a majestic ship.

A ship of four classes, each having their own quality and style. As you peruse the accompanying photos, imagine yourself in your tuxedo or evening gown enjoying the sophistication of the first class, or simply passing the hours in the comforts of tourist third cabin.



What follows is a collection of articles and photos that depict this fine vessel.

Also, "A pictorial presentation of the congenial charm of a transatlantic fleet, whose fine atmosphere and character are the reflection of the discriminating taste and friendly manner of a distiguished clientele." From Connoisseurs of Travel a 1935 Holland-America Line travel brochure depicting life on the Statendam and the other liners of the fleet.
---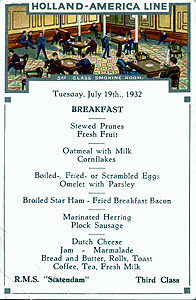 Home | Index of Ships | Table of Contents | Statendam Photos