The Holland America Line Piers
The Wilhelminakade
Rotterdam, Holland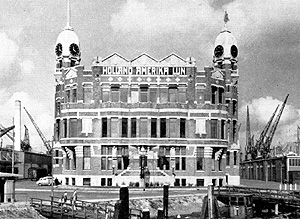 As It Looked In April, 1951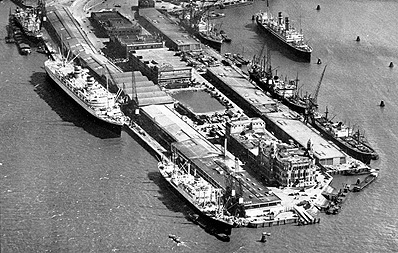 Headquarters establishment of the Holland-America Line, as shown from the air, is the most compact of its kind. On this sixteen-acre space are contained all the facilities for the management, operation, servicing and maintenance of a major steamship organization. From upper left hand corner is the Blommersdyk alongside shed Philadelphia; next is the shed Norfolk; flagship Nieuw Amsterdam is at the arrival shed Rotterdam; shed Baltimore; m.v. Westerdam at the departure shed New York. This is the Whilhelmina quay. The otherside of the peninsula is the Rhine quay which, from top of photo has the Aardyk at shed Havana;then sheds New Orleans and San Francisco alongside of which are two vessels of the United Netherlands Steamship Co., an affiliate of the Holland-America Line. Moored at buoys is the Volendam, under Netherlands Government charter as an austerity ship. All of these buildings, with the exceptionof the head office and shed New York have been newly built since the end of the war.
Veendam II taking on passengers.
---
The Holland America Line offices as they look today, now the Hotel New York.
Photo courtesy of Frank W. van Wensveen
---
Home | Table of Contents