Memorabilia Dealers
This site often receives request regarding how to buy bits of Holland America memorabilia. As a result, the list below has been compiled. This list is solely a reference and the Unofficial Holland America Home Page makes no recommendations or representations regarding any of those dealers listed. For those memorabilia dealers that are interested, your business can be added or deleted at your request simply by sending an email to webmaster@unofficial.net.
---
Booklets, Deck Plans, Passenger Lists, Menus, Postcards, Medals, Souvenirs, etc. -1880's to QE2
---
| | | |
| --- | --- | --- |
| | | Your exclusive place to shop for one-of-a-kind remnants of some of the great passenger ships of the mid-twentieth century! Whether it be a small light fixture or a set of chairs for your dining room, a decorative artwork, or a strip of nickel plated handrail, they are certain you will find something of interest. |
---

by
Jim Karvelas, a.s.m.a.

12" X 31" prints of pencil drawings of many of the famous transatlantic liners,
including Lusitania, Titanic, Normandie, and Bremen, as well as the Nieuw Amsterdam and the above Rotterdam.
---
Jerry Newman
Tel. (914) 592-3739
An extensive selection of transportation memorabilia, including Ocean Liners.
---
CABIN CLASS COLLECTIBLES

Ocean Liner Memorabilia from the Great Steamships of the 20th Century
---
---
Robert Loewenthal Ocean Liner Memorabilia
Catalog information, email: bobship@earthlink.net
Fred Kramer for Holland America cruise collectibles.
Email: fkramer@shaw.ca
Mitchell Mart Ocean Liner Collectibles
P.O. Box 030424, Fort Lauderdale, FL 33303
(954) 463-8836 FAX: (954) 463-8829
New Steamship Consultants at http://www.oceanliner.com.
Simplon Postcards at http://www.simplonpc.co.uk/.
---

at http://www.oceanlinerbooks.com
---
Ken Schultz Ocean Liner Memorabilia at http://www.sskenschultz.com
---
Michaels Collectibles at http://michaelscollectibles.com/Ship.htm.
Down Memory Lane at http://www.shipsahoy.com/.
---
---
BROC-et-PUCES, Souvenirs De Paquebots et Transatlantiques, Le Havre, France, at www.broc-et-puces.com.
Maritime Replicas at http://www.maritimereplicas.com/.
---



Currently offering a model of the Rotterdam V in 1:440 scale. Price available upon request.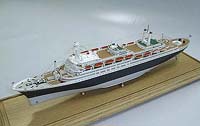 ---
Back to the Links Page | Table of Contents