NIEUW AMSTERDAM II
Photos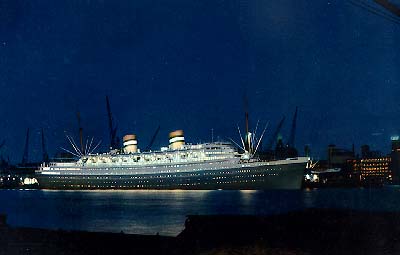 (Photo courtesy of Pietje Bell)
---
Some photos for you to view while more text is written.
This and the following are original photos of the Nieuw Amsterdam docked at Hoboken, October 20, 1950. This, a view of the bow, bridge, the forward mast and booms. Notice the crow's nest.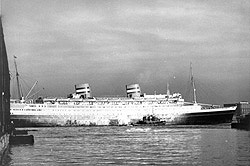 The Nieuw Amsterdam leaves Hoboken, outbound for Europe. The photograph has written on the back, "4:20 PM".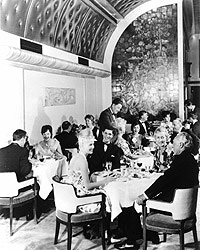 Another press photo of one of the dining rooms during the early 60's.
On the back of the photo on the right is written:
A luxury vessel of classic lines, the s. s. NIEUW AMSTERDAM was extensively rebuilt in late 1961 as a two-class ship (first class and tourist class accommodations only) for 1,274 passengers. She measures 36,982 tons (gross registered tonnage), is 758 feet long; fully air-conditioned and equipped with Denny Brown stabilizers. She has 11 decks easily accessible by elevator service, and has indoor and outdoor swimming pools.
During the summer season she is employed in the weekly transatlantic service; and during the fall and winter months she is used regularly in the Caribbean-West Indies, Mediterranean and other cruise service.
---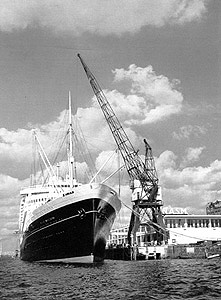 At the Wilhelminakade.
Rotterdam
---
Coutesy of the Rotterdamsche Droogdok Maatschappij and Roel Zwama.
---
Home | Table of Contents | N. Amsterdam Main Page